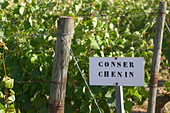 South Africa makes a lot of white wines. It is traditionally a big brandy producer (more about that at another occasion), so white varieties have always been widely planted. The premier brandy grape is the chenin blanc, previously called steen here in SA. "Chenin blanc is easy to grow in South Africa", explains Teddy Hall in Stellenbosch, "hand we don't have any problems with getting it ripe and produce clean healthy grapes. That's why it's always been popular with the brandy producers". Chenin blanc is still the most common grape variety even if it has decreased in recent years, as plantings of red varieties have increased. (But last year, more white grapes than red were planted so maybe the trend is changing.) We just hope that the chenin vineyards don't shrink too much! The grape can be used for not only brandy, but also excellent white wines, and more top quality chenins from South Africa will be welcome!

Like for instance the wines from Teddy Hall. Teddy is one of the best chenin producers in South Africa. He has travelled a lot in the "home country" of the chenin, in the Loire Valley, and in his view south Africa has a definite advantage: "Here in our wine regions the grapes ripen better and they also ripen all at the same time". His dry and refreshing Chenin Blanc Summer has fermented quite quickly in steel tanks for ten days. It is a dry, refreshing, and clean chenin. "This wine shows the fundamental characteristics of chenin", says Teddy. The Chenin Blanc Reserve has fermented in barrique and has been aged for one year before release. It has a different range of aromas, a touch of caramel but also the distinct chenin flavours of apricot and grape fruit. "It is a different style of chenin blanc", Teddy points out, "almost sémillon-like in its richness".

At Rickety Bridge in Franschhoek we talk with Wynand Groble, a young winemaker with a past at Rust en Vrede and Garden Peak. He has 6 ½ ha of old chenin blanc vines, planted in 1974. From these he makes some excellent chenin wines, for example his delicious rickety Bridge White Range Chenin Blanc 2009, with a good acidity, aromas of passion fruit and a very dry finish. Just like Teddy he experiments with both reductive (in closed vats) and oxidative (e.g. in barrels) vinification of the chenin.


By the way, what's your take on South African chenin blanc vs. Loire Valley chenin blanc?