>> Tuesday, June 15, 2010
Casablanca, Leyda, Limarí are just a few examples of new regions that are changing the way we look at wines from Chile. And this is just the beginning. "The best terroirs have not yet been planted!", says Sergio Hormazabal at Viña Ventisquero. Fernando Almeda at Torres is getting ready to plant vineyards with a, for Chile, new type of vineyards soil, a Priorat-like slate (schist). The first vintage will be 2012, made from e.g. pinot noir. Both Fernando and Miguel Torres Maczassek agree that pinot noir have a great potential in Chile. And they are not alone.

Sergio Hormazabal at Ventisquero also has great plans for pinot noir. "It's a challenge growing this grape", says Sergio, "we're still learning how to handle it. It is a complex grape that you will no doubt need a hundred years to understand! Honestly speaking, ten years ago, the pinot noirs that were made in Chile were not particularly good, but things change rapidly. The quality gets better every year. We have new and better clones, new regions where it gives better results etc."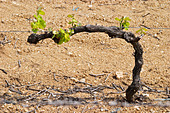 Syrah is another grape variety that is making great progress in Chile. Viña Maipo has several interesting syrah-projects in place. "Everyone makes carmenère… We wanted to find something a bit more original and syrah is my favourite grape variety", says chief winemaker Max Weinlaub. And Ventisquiero has a collaboration with John Duval (who is a well known syrah specialist after having been responsible for Penfold's Grange for many years) to make their prestige cuvée Pangea in Colchagua.

Not to forget the emblematic grape from Chile, carmenère. Winemakers are more and more learning to treat it in the best ways. "The last few years this grape variety has seen a lot of development", says Matias Rios, winemaker at Viña Cono Sur. "Ten years ago the winemakers didn't now much about carmenère and green aromas appeared frequently. Now, we have learned to harvest late and give the grapes more exposure to the sun." And we are seeing more and more "icon wines" made from carmenère, which used to be a domain reserved fro cabernet sauvignon.

We will continue in the next Brief with more exciting news from the New World, both in Chile, Argentina and South Africa.