>> Tuesday, November 17, 2009
Criteria: an interesting wine (not too cheap) and one that you can enjoy with dinner or friends (not too expensive). And very good!

Åsa's wine of the month:

Rosé du Coteau from the agricultural institute in Aosta – cheap rose with class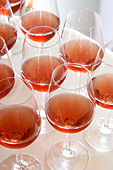 This month's wine comes from Valle d'Aosta in northern Italy. The Rosé d'Aosta is made by the Institut Agricole Régional. They frequently experiment with various techniques in the vineyards. It is an easy-drinking rosé made from the gamay grape. The vines are planted in a vineyard at 800 m altitude on a steep slope. It goes well with starters or simpler main courses that are not too fat or heavy and not too strong flavours. It is very fresh with a hint of bitterness in the finish that avoids that it gets boring. The colour is light with some beautiful hints of brownish yellow. Excellent value for money. Approx 5 euro. www.iaraosta.it

Jack's wine of the month:

A Amarone 2006 from Alpha Zeta

It is a dark November evening, just a plain weekday, and you need some red to go with your parmesan that you just picked up at the cheese shop. The scenario requires quite a substantial red wine and the solution is at hand: Try a A Amarone 2006 from Alpha Zeta (~10€ for a half bottle). It gives you lots of fruity flavours, good concentration, quite dense, with a good long finish. It survives even the stronger cheeses. In spite of the high alcohol (15%) the wine is balanced and gives you a lot of character for a relatively modest price. You can also keep it in your cellar for a few years but it's delicious to cheese this November!