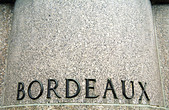 Facts and figures on Bordeaux

34% of all Bordeaux goes on export, 66% goes down in France
Exports decreased with 7% in 2008 to reach 1.8 Mhl. 1998 was record year with 2.5 Mhl exported.
Exports to Europe shrunk with 12% while ROW was stable
The biggest export markets (in value):
-United Kingdom
-USA
-Switzerland
-Belgium
-Germany
-Japan
-Hong Kong
-Canada
-China
-The Netherlands
Germany and the Netherlands buy cheap wines, Switzerland and Hong Kong (and to some extend USA and the UK) go for quality (or at least higher prices)
Virtually all markets in Europe show decreasing sales. USA and Canada are relatively stable while some markets in Asia expand.
China has arrived as a buyer with a bang: +60% in 2008 and it is now the 8th market in volume up from virtually nothing five years ago.
85% of exports are red wine; only 15% is white wine.